Scene and Be Seen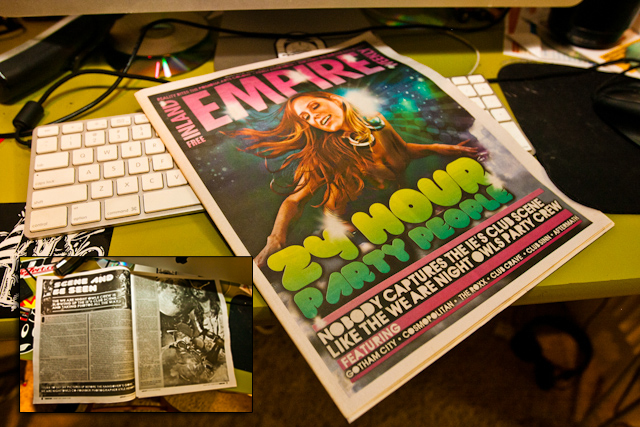 by Lilledeshan Bose
(IE Weekly, Jan. 9, 2010)
I've been kidnapped. But my abductors are friendly, and they offer me drinks, a turn at Call of Duty 4: Modern Warfare. I'm with We Are Night Owls, the Ontario-based group of freelance photographers, graphic/web designers, DJs and promoters, and we're getting ready to head out on a typical night out in the Inland Empire. Clearly, all they want to do is show me a good time.
Kyle Hendrix, WANO's head honcho and main photographer, is rounding up his crew. In attendance: graphic designer George Rodriguez, webmaster Mitch Medina and Endre Lopez, a.k.a. DJ NewEra; all range in age from 20 to 22 except for Medina, who is 28. The other Night Owls—photographers Troy Acevedo, Anthony Ho, Chris Paez and Joe Garcia—are meeting us elsewhere.
As a pre-party ritual, WANO chills at their apartment, which also doubles as their office. Before we troop out at 9:30 p.m., they cover the necessities: A bottle of 5-Hour Energy, check. DSLR camera, check. Dancing shoes, check. Cell phone, check. Tank full of gas, check.
Hendrix is six-foot-three, with blonde hair that reaches the middle of his back. He's dressed like every normal twentysomething in the IE: a T-shirt, baggy jeans and sneakers. It's not what you'd expect from the head of a promotions company that's been blowing up the Inland Empire party scene since its conception in August 2009, but everyone knows he's the boss. As we enter Club Crave at Canton Bistro in Redlands, Hendrix deftly drops the WANO label for security, points out members of his entourage, and gets everyone in. No questions asked.
Thumping house music blares from two rooms. It seems like there are about 400 people at Club Crave. WANO members set up a photo booth with lights at one corner, while Hendrix walks around the venue to take photos of people dancing to electronica. As he moves through the crowd, people are constantly stopping Hendrix, now with a camera and a handheld flash, to ask him to take their pictures. After they pose, he hands them the WANO business card. On it is the image of an owl, and the We Are Night Owls URL.
What exactly IS We Are Night Owls?
Go to the WANO site, and you'll find thousands of photos of club goers from various venues in the Inland Empire. The nighttime photos are dramatically lit, well-composed and way better than anything you'd ever be able to take with a point-and-shoot camera. If you've been shot by WANO while out at Gotham City at the Hudson Theater in San Bernardino or Club Vyce at Rock 'N Saddle in Redlands, chances are you've gotten their card, gone on their site, and downloaded your photos. Hell, you may be using their photo as your profile pic right now.
The key to their success is that they post their photos immediately—or, at the very least, Hendrix jokes, "I like to get my pictures up before the hangover's gone." After they watermark the photos with the WANO logo ("So they know it's ours," Medina says), everything on the site is available to download for personal use—no registration required, no logging in, no username/password combo to remember. That makes it easy for subjects to spread the word about WANO—in fact, the most common (and biggest) compliment the group gets is "I'm going to make that my default picture." Medina says keeping their website active is key: "That's what keeps people coming back."
Hendrix and Rodriguez had been documenting the IE party scene for a little over a year as employees of another promotions company before they broke away to launch WANO in August. In the beginning, they used Blogspot, Google's free content management system. Many of WANO's affiliates attended the Art Institute of California-Inland Empire. After Medina (dubbed the "Flashmaster" by his colleagues) joined the group, he made the WANO site what it is now.
"I said we should do something bigger and better," Medina recalls. He created the website, and group used the name We Are Night Owls as a tribute to Hendrix's insomnia—and the IE party scene. "We branded the company in four days in our pajamas, and we got the best people to work with us," Medina said.
We like to party
After about an hour, we roll out of Canton Bistro and head over to San Bernardino, where Gotham City at the Hudson is rocking an all-ages night with Richard Humpty Vision. Teenagers decked out in pigtails, knee-high socks and 5-inch long skirts and really heavy makeup abound. There are glowsticks everywhere, as are inhalers, whistles, wigs and pacifiers. It feels like a throwback to the candy rave scene of the late '90s, and I'm in shock that it still exists, in a younger, more corporate form. In one corner of the room is a giant cuddle puddle. We step over kids laying on the ground to set up camp at the DJ stage, way above the crowd.
Hendrix hits the ground running, and every step has people—again—stopping him so they could pose. Hendrix's height works to his advantage; everyone looks better from above. Because he carries an extra flash, his long arms also help him bounce more light onto his subjects. He roams the floor from about 11 p.m. to 1:30 a.m., only resting to borrow glowsticks from a passerby and bust out a few dance steps. Even then, people patiently wait on the sidelines to make sure Hendrix shoots them.
"People just like pictures of themselves, I guess," he says.
Obviously, WANO's members are too savvy to work for free. Since technology has made it simpler to take photos and use the Internet for promotional materials, clubs have promoted events primarily through the Internet. They hire photographers to take photos of people at their clubs, slap a promoter's logo on a photo, and make sure viewers know what they're missing when looking at photos. Club nights are promoted through Myspace, Twitter and Facebook. Photo booths abound. Roaming photographers take pictures of dancers and DJs.
"We're doing really good numbers," Riverside club promoter Daniel Delgado says. Because the Inland Empire is a large urban sprawl, it's easy to get 600-900 people in a club on any given night for the 18-and-over set, and about 1,000 people in the all-ages scene. Documenting the IE club scene can be a profitable endeavor—if you know what you're doing. And the Night Owls do, says Delgado.
Delgado promotes Club Envy at Canton Bistro and Club Vyce in Redlands. He gave Hendrix his first jobs shooting club nights in various locations, and says WANO's photos have the best quality and a definitive look.
"I've used 20 different companies in all the years I've been promoting, and out of every single company I've never seen a picture look like Kyle's," he says. The quality of their work explains WANO's quick progress, Delgado says. ("Kyle strives to make sure it look like everyone has the time of their lives—it doesn't matter if there are 30 people or 300," graphic designer Rodriguez adds.)
These days, WANO is "booked everywhere from here to L.A., from hip-hop nights to clubs, (shooting) two to three spots on Thursdays, Saturdays and Sundays—they're on flyers for all sorts of events," Delgado says. The relatively simple-to-use WANO site and the easy-to-remember logo of an owl made WANO a hit. He adds, "With every owl, boom, people are going to know they're going to be there to party."
See and Be Seen
At around 2 a.m., everyone heads back to the WANO "nest" to edit photos. It was a good night, all in all. Hendrix sits down in front of his laptop. The Call of Duty game resumes. Photographer Acevedo arrives from another club and everyone gives each other the lowdown on what happened throughout the night. Rodriguez says, "This is when we all talk shit about each other and teach each other things."
At its most basic form, WANO is a group of friends working with each other, with its members all striving to help each other and promote each other's work. "We want you to make your pictures better so you can take pictures for us and make us grow. We're trying to grow as much as possible and like what we're doing, and not feel like it's a job that we have to do," Rodriguez says.
Instead, WANO's goal is to spawn a new party scene in the IE. They've already started doing it, via networking and the Internet. "All these clubs never talked to each other before, but we kind of brought them all together since everyone uses us for photography. They go to our website and see which DJs are playing what clubs, what everyone else is doing," says Hendrix. Their team of photographers covers all the events, DJs "smash on the crowds and promoters to pack the venues." Aside from weekly coverage of about six clubs, they're also designing flyers for venues, and are looking into working with other businesses such as videographers and skateboard companies for design work. "We know all these people through all these events, so we're cool with everybody," Rodriguez says.
That Hendrix is affable, involving and really hardworking only helps WANO.
"The guy has a really good personality," Delgado says. "The scene needs someone who is going to be out there and be really energetic." Plus, he adds, "When you book WANO, you book the whole entourage. Everyone knows who they are, so when they come it's, like, 'Oh, We Are Night Owls is here.' Their presence is made when they're all there."
For more info about We Are Night Owls and the local club scene, go to www.wearenightowls.com.